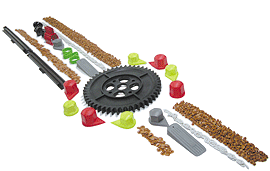 We produce Plastic Mouldings of various sizes, and with 27 machines, our scope for production is comprehensive. Manufacturing under ISO 9001-2015 we pride ourselves in our commitment and the highest standard of workmanship.
We are experienced in processing a wide range of materials from commodity polymers to precision engineering grades of material. With over 30 years experience in the industry new ideas/products can be designed, manufactured and produced under one roof. We are BS EN ISO 9001-2015 registered for Quality, this was achieved in just 5 months which emphasises the commitment we place on our service to our customers.
We produce injection moulded products for various industries, including; D.I.Y., Furniture, Kitchen, Office, Electrical, Building, Conservatory, Loft and specialist industries.
We manufacture a wide range of components in the DIY market. Many of these products being available in bulk quantities for sale to distributors/pre-packers within the United Kingdom.
We also serve furniture manufacturers nationwide, in particular, kitchen, bedroom and office manufacturers. Our extensive range of standard off-the-shelf products is available for immediate delivery. Full details of these items are shown within our catalogue, available on request.
Alternatively, we will be pleased to assist in the design and manufacture of components to your specification.